Online Travel Market
2018-06-16
In case you are interested in the online travel business, we collected some business information we found promising
The online travel industry is made up of travel e-commerce sites - websites of airlines and online travel agencies (OTAs), selling travel products like flights, hotels, car rentals, etc. - and review sites like TripAdvisor. Global online travel sales have grown over the past few years and sales value of air travel, hotels and OTA's are all expected to constantly keep growing. We, travelers are relying more on travel review sites when booking therefore the influence of these are also increasing.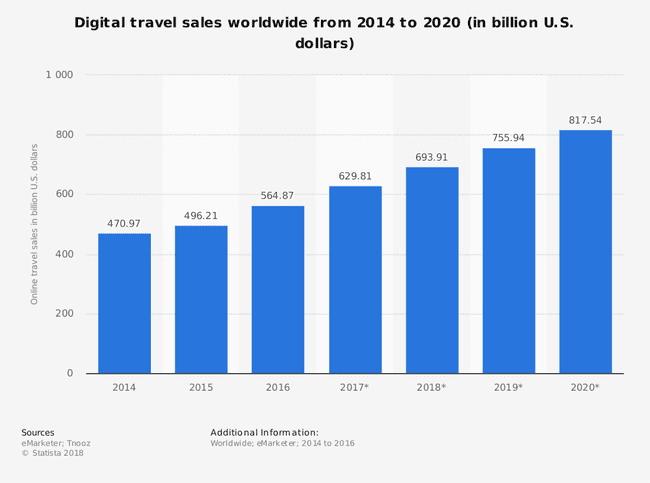 Before the internet boom when we wanted to book a trip and make reservations we had to visit a travel agency or order by phone – travel websites and mobile apps have been making digital travel arrangements increasingly easy. It is almost unthinkable nowadays not to be able to plan and book everything beforehand – we appreciate the ability to create our own itineraries with the help of digital tools like travel planning websites, price comparison sites or review portals that provide us with the option to directly book our hotel at listed locations.
Most of travel sales still occur via desktop but mobile is catching up and travel apps are consistently ranked among the most popular categories in the app stores. In addition to outright travel app coverage, travel brands have also got travel app usage covered on social media – 95 percent of the leading travel brands have an Instagram profile.